Coronavirus: global trade braces for 'tidal wave' ahead, as shutdown batters supply chains
Coronavirus: global trade braces for 'tidal wave' ahead, as shutdown batters supply chains
A series of data points show where world trade is going, and the picture for air and sea freight is not a pretty one
Supply and demand crises are coalescing on the high seas, as more countries shut their borders

Finbarr Bermingham 3 Apr, 2020
South China Morning Post
Updated: 11:52pm, 3 Apr, 2020267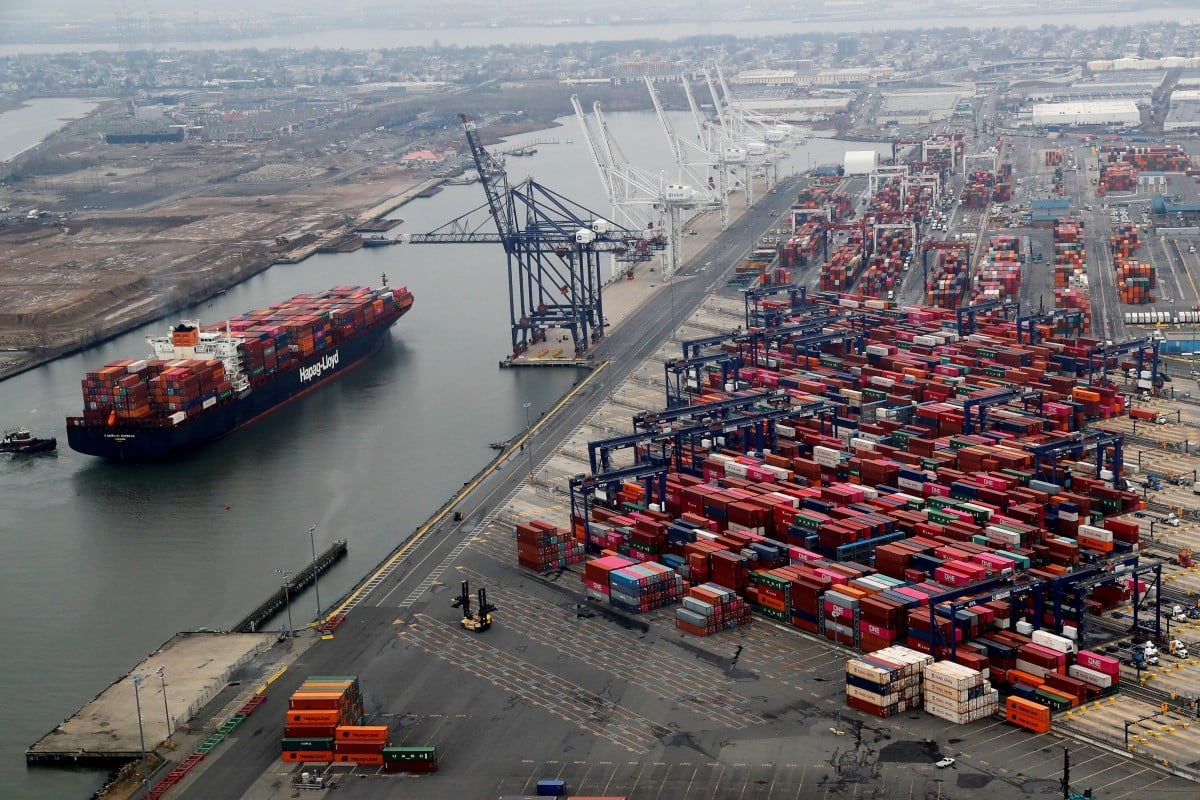 Demand for shipped goods is forecast to plunge as countries around the world close their borders due to coronavirus. Photo: Reuters
On Tuesday, the Port of Wuhan, a vital cog in China's heavy industry supply chains, reopened for business after more than two months of being locked-down at the centre of China's initial coronavirus outbreak.
In the same week, Ethiopia closed its land borders, Myanmar cancelled all commercial flights and South Africa restricted cargo movements to non-essential goods, joining the United States, Canada, Mexico and most of Europe in deploying draconian containment strategies aimed at stopping the virus' spread.It was a case of one door opening and 50 slamming shut. This winding down of international connectivity is set to paralyse global trade, the effects of which can already be viewed through a number of early indicators, and advance governmental statistics.Air freight prices have spiked on routes out of China, by more than 200 per cent to destinations in Southeast Asia as factories desperately try to source components amid fears of further lockdowns, but also by more than 100 per cent to Europe and the United States, according to TAC Index, which monitors air freight rates.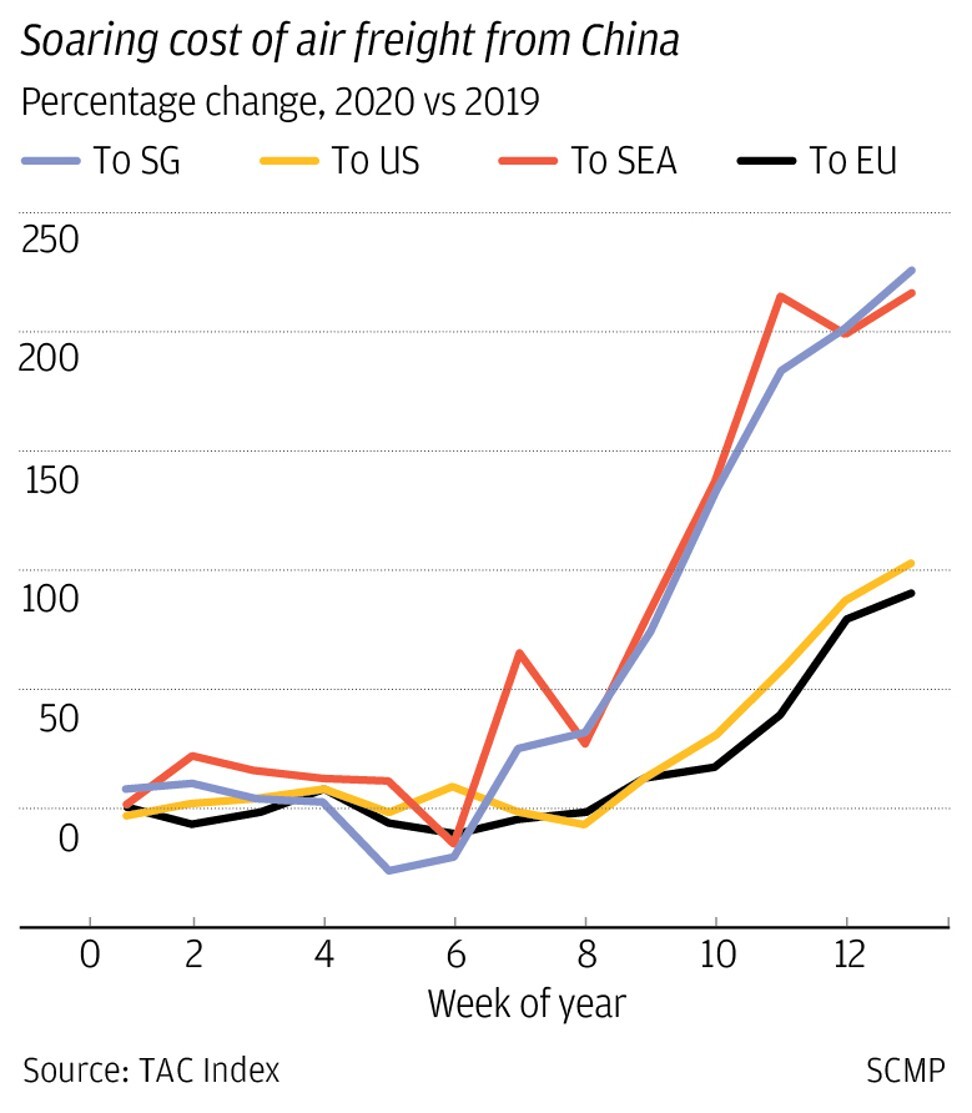 The cost of air freight from China has spiked due to the coronavirus outbreak.
With barely any airlines flying out of China any more, it is more expensive to book cargo space and this will continue as the number of carriers dwindle and trade collapses along with it. But with much of the valuable space on these planes taken by vital medical equipment, there is vanishing room for anything else.
In another sign of the hit to come to air cargo – which transports more than US$6 trillion worth of goods per year, accounting for 35 per cent of global trade by value, according to the International Air Transport Association – Chinese airlines were told this week to maintain only one route to any specific country, with no more than one flight a week.
An estimated half of air freight – which is typically made up of high value or emergency products – travels in the belly of passenger jets. The dwindling number of flights presents another body blow to global trade, which fell by 1.2 per cent in January, according to the respected World Trade Monitor, conducted by the official statistics bureau of the Netherlands.
Gaps in the air freight network forced New England Patriots owner Robert Kraft to send his private jet to China this week to pick up a million masks and other medical equipment.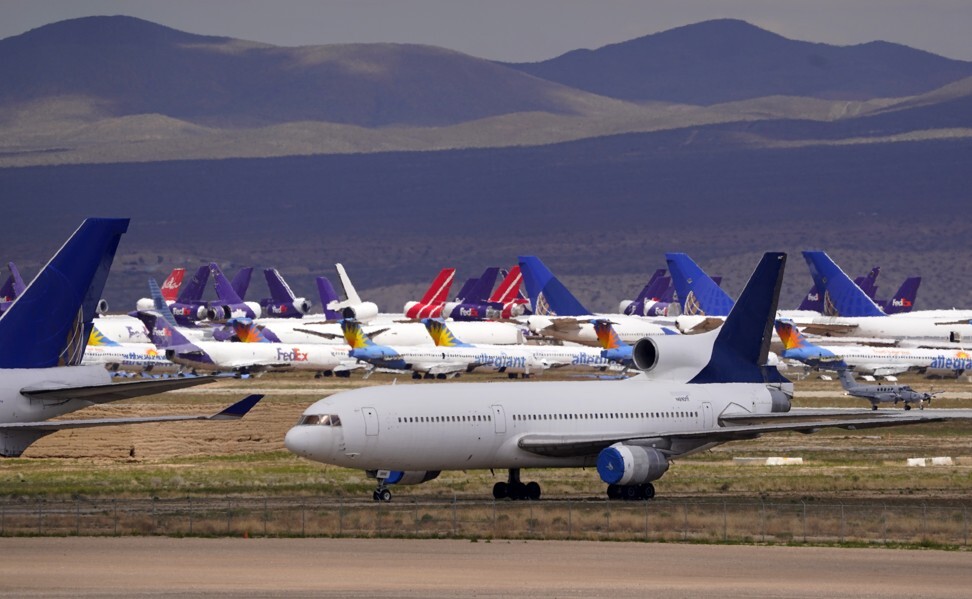 The growing number of grounded passenger flights due to the pandemic is a major problem for global air freight. Photo: AP"When you think of how much trade travels in passenger planes, and 90 per cent of those are now grounded out of China, that capacity is now completely gone," said Stefan Holmqvist, managing director of Norman Logistics in Hong Kong. "It is left with the freighters, but with demand for medical equipment so high there is limited space."
The picture on the seas may look calmer, but extreme volatility is lurking beneath the surface.
Dan Brutlag, head of trading signal and data products at Cargometrics, a technology company tracking every ship on the world's oceans, said that "tonnage for both Chinese exports and imports have recovered compared to levels we saw in February, but remains slightly below levels we would expect to see this time of year".
But Brutlag and everyone else in the business is looking for the iceberg dead ahead. Most of the cargo on ships currently at sea has already been paid for, meaning it measures previous demand. When these arrive at the port, will there be the requisite manpower to unload them? Then, where do they go?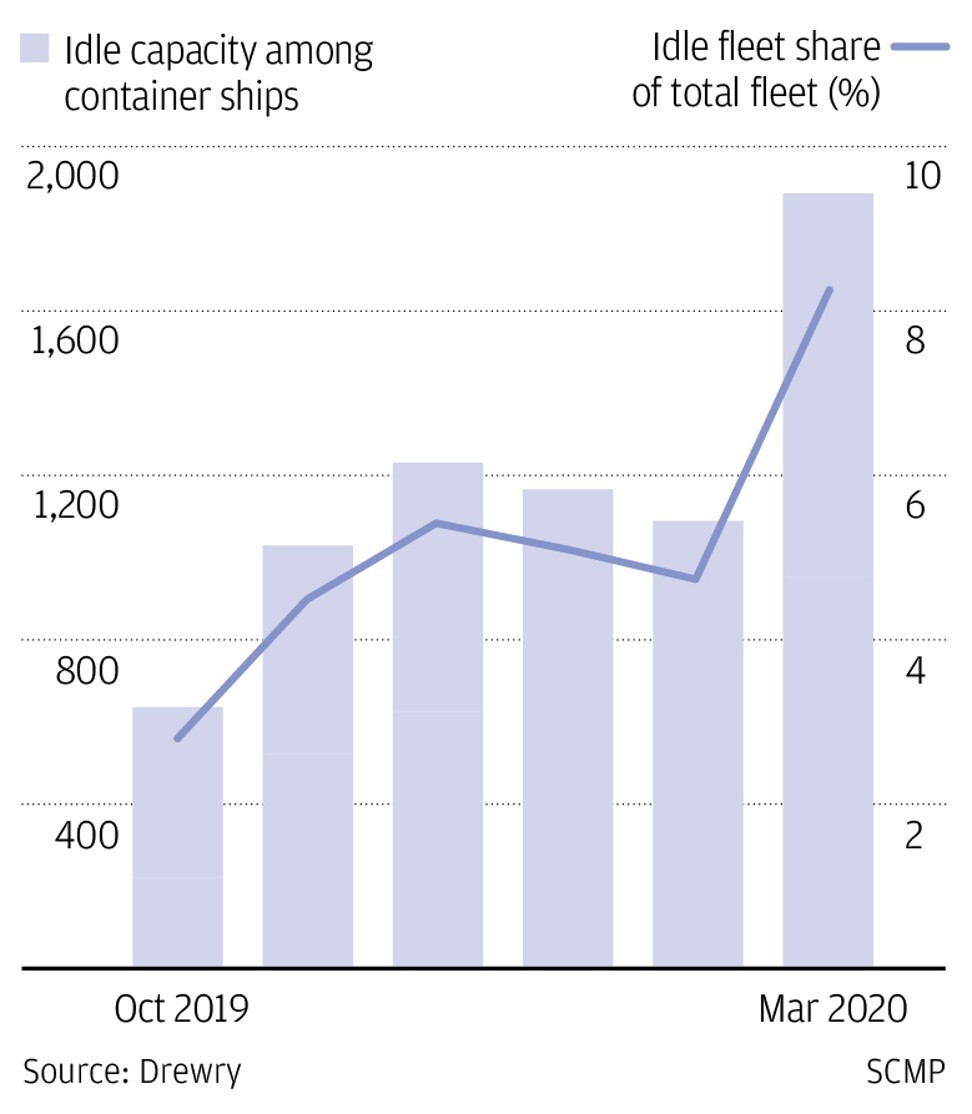 Container ships are running with almost 10 per cent slack capacity.
"We are expecting a tidal wave of cargo from China in the next few weeks – with little open and nowhere to put it – we are going to wind up with a big infrastructure mess at the ports and distribution centres," said Steve Ferreira, CEO at Ocean Audit, another tracking firm. "It's all doom and gloom. Many of my customers are doing home delivery or drive up sales – but that is nothing compared to the normal brick and mortar pace."New demand for shipped goods is thin.
"We are seeing a lot of cancelled sailings out of China for the US and Europe, at very short notice," said Holmqvist. "It usually comes quite far in advance, but I would say now at short notice 30 per cent of these are blank sailings."
We are seeing a lot of cancelled sailings out of China for the US and Europe, at very short notice Stefan Holmqvist
A report by shipping consultancy Dewry this week confirmed that "void sailing notices from carriers for April are coming in thick and fast", while bunker prices – fuel for shipping – have fallen by more than 90 per cent for some forms of fuel. Container ships are running with almost 10 per cent slack capacity, a figure which has rocketed up in recent weeks.
It is quite easy to see why: as the world shuts down, people are buying fewer things, well illustrated by various government surveys this week.
Manufacturers in India saw a record decline in export orders, Mexico too. For those in the US, Canada and Italy, meanwhile, it was the worst month for orders since the global financial crisis more than a decade ago.Factory owners in China are also seeing the hit, with cancelled orders and delayed shipments becoming a chronic problem, which will only get worse as the world heads deeper into the biggest globalised crisis since World War II.
This article appeared in the South China Morning Post print edition as: 'Tidal wave' looms as virus lockdowns batter global supply chains

Finbarr Bermingham has been reporting on Asian trade since 2014. Prior to this, he covered global trade and economics in London. He joined the Post in 2018, before which he was Asia Editor at Global Trade Review and Trade Correspondent for the International Business Times.
SSCP CAS-002 9L0-066 350-050 642-999 220-801 74-678 642-732 400-051 ICGB c2010-652 70-413 101-400 220-902 350-080 210-260 70-246 1Z0-144 3002 AWS-SYSOPS 70-347 PEGACPBA71V1 220-901 70-534 LX0-104 070-461 HP0-S42 1Z0-061 000-105 70-486 70-177 N10-006 500-260 640-692 70-980 CISM VCP550 70-532 200-101 000-080 PR000041 2V0-621 70-411 352-001 70-480 70-461 ICBB 000-089 70-410 350-029 1Z0-060 2V0-620 210-065 70-463 70-483 CRISC MB6-703 1z0-808 220-802 ITILFND 1Z0-804 LX0-103 MB2-704 210-060 101 200-310 640-911 200-120 EX300 300-209 1Z0-803 350-001 400-201 9L0-012 70-488 JN0-102 640-916 70-270 100-101 MB5-705 JK0-022 350-060 300-320 1z0-434 350-018 400-101 350-030 000-106 ADM-201 300-135 300-208 EX200 PMP NSE4 1Z0-051 c2010-657 C_TFIN52_66 300-115 70-417 9A0-385 70-243 300-075 70-487 NS0-157 MB2-707 70-533 CAP OG0-093 M70-101 300-070 102-400 JN0-360 SY0-401 000-017 300-206 CCA-500 70-412 2V0-621D 70-178 810-403 70-462 OG0-091 1V0-601 200-355 000-104 700-501 70-346 CISSP 300-101 1Y0-201 200-125 , 200-125 , 100-105 , 100-105 , CISM NS0-157 350-018 , NS0-157 ICBB , N10-006 test , 350-050 70-534 70-178 220-802 102-400 000-106 70-411 , 400-101 100-101 , NS0-157 1Z0-803 200-125 , 210-060 400-201 350-050 C_TFIN52_66 , JN0-102 , 200-355 JN0-360 70-411 350-018 , 70-412 350-030 640-916 000-105 100-105 , 70-270 , 70-462 300-070 , 300-070 642-999 101-400 PR000041 200-101 , 350-030 300-070 , 70-270 , 400-051 200-120 70-178 9L0-012 70-487 LX0-103 100-105 ,